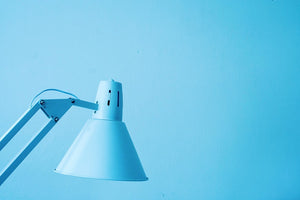 The Best Table Lamps To Brighten Your Day
of reading - words
Best Table Lamps To Brighten Your Day
There's nothing like good quality and trusty table lamps to brighten up the best corners in your room, especially when winter starts to draw in. Soft lights from these small appliances make your space feel comfortable and relaxed. Indeed, placing the most suitable lighting creates the best atmosphere for your cozy abode.
There are actually plenty of options for lighting that you can choose from. Below are some of the most fantastic recommendations.
Collect Table Lamp
Here's one table lamp that has seemingly come right up front from the lounge of a 70's gentleman's home. The light it throws is focused downward that in turn creates fascinating shadows and diverts attention on to the spot where it is standing.
Harris Copper Desk Light
Who doesn't love a vivid copper light? As a table or desk lamp, you'll absolutely be perked up by its stunning shape- quite nifty and solid that is bound to be in your keeping for a long time.
It is definitely durable and can be a functional and attractive accent to your writing desk, or a small storage cabinet or storage tower in your room. A perfectly-chosen copper desk light can subtly brighten your living space regardless of your personal taste.
You can choose from various designs, materials and silhouettes of a copper desk light that bring out personalized lighting according to your preferences.
Neon Lights
There's recently a trend for neon lighting, and you can buy them in different styles and prices. There's basically one or a few that will suit your taste and budget. With neon lights, you can incorporate a glow that vibrantly radiates into your walls.
Your space can enjoy a bright hue that definitely costs much less than painting. It gives a major mood uplift to add neon lighting to your home, that in turn can drastically reinvent it.
A Tropical Style
How about snazzing up your living space with a palm tree lamp? Or you can also choose a nautical or coastal accent table lamp that is featured with a clear glass that is filled with sea shells.
You can also substitute that container with your own personal collectibles. Another coastal nautical beach lamp you can consider is a set of 2 rope fabric drum shades as your bedside table lamps, or ideal for your living room as well. 
Something Unique and Different
A white dome design for your table lamp is totally charming, along with other extraordinary styles of a white and chrome table lamp, a black-glassed and wired hurricane lamp, or a black-seated Buddha lamp.
You can even consider a blue and silver tone embossed table lamp, or a white and gold table lamp. You have a huge selection of uniquely-designed table lamps that cater to your preferences, the decor of your room or home, and your lighting needs.
Anglepoise Lighting
This is one of the best brands of table lamps that you can't go wrong with. Anglepoise has a wide range of products for you to choose from, including the Type 75 desk lamp Paul Smith edition which obtained inspiration from De Stijl, a work by the Dutch painter Mondrian.
This desk lamp has been playfully adapted from the best-selling lamps of its design and model. Its colors are truly bold and exciting, representative of the De Stijl movement, and accentuated by the well-known Anglepoise structure.
How To Choose The Right Table Lamp
That one perfect unique table lamp. It can utterly complete the feel and atmosphere of a room. What makes the ideal design of such an appliance to create the right look and ambiance? You basically need to incorporate balance in your space, and the tips below can guide you:
1. Look for the right shade height
You can determine this by sitting next to the area where you are going to place the lamp. While sitting down, check the measures from the surface where you will set the lamp to your eye level.
You need to find its average height, and you do this by dividing the base measure by 3. So if, for example, the measurement is 18", you divide this by 3, and you get 6", and this will be the average height you need for your shade.
2. Decide on the most appropriate size
Ascertaining the average height for your shade needs you to add 18" to the measure of your shade. As derived from above, and as an example, your average shade height is 6", and you add 18" inches to it, garnering 24" for the height of your lamp.
3. Choose the best style of your shade
What shape and style do you prefer for your lighting appliance? This is a vital consideration. However, along with this, you have to take into account its use and functionality.
Is it a table lamp that you want to use while watching TV? In this case, you need something that will minimize the bright glare of the screen, such as an opaque shade, or one that has a darker color.
If you're using a lamp to assist when you're reading, choose that which has a semi-opaque shade, which is also suitable for lighting a room on the overall.
4. Buy the right bulb
Do you need lighting for proper reading? If so, you should get a 60 watts or more light bulb. If you prefer to purchase an energy-saving LED bulb, check its lumens output along with its comparable rating.
The wattage of your LED light bulb should be the same as the wattage of a regular incandescent lighting. To enjoy flexibility, you can choose a dimmable bulb. If it's LEDs that you prefer, select a dimmable bulb, to differentiate from LED bulbs that are not.
Check out our bedroom wall lamp ideas.
---