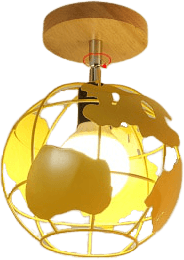 When Should You Use a Flush or Semi-Flush Ceiling Light?
of reading - words
In the main living space, you may have a statement entryway pendant, a lovely dining room chandelier, and a magnificent lighting fixture, but what about corridors, laundry rooms, closets, and leisure rooms? 

Do they have to be so plain and uninteresting, or are there alternatives that mix in better with the rest of the house's decor?

There's good news! There are several beautiful flush ceiling lights and semi flush lighting fixtures on the market that can add style to any room in your house while also delivering excellent illumination.

Ceiling height is maybe the single most critical consideration in choosing whether you want a flush mount or semi-flush installation.
While a flush light, with its shallow depth and flush mounting, is ideal for rooms with 6 and 9-foot ceilings, spaces with 10 and 12-foot ceilings would benefit from a semi-flush design. The semi-flush (which protrudes farther from the ceiling than a flush mount) is more visually appealing and brings the light closer to the living area below. A chandelier or pendant is the greatest option for producing the correct quantity of light if the space has a90-foot ceiling or above.


The Benefits of a Flush Light
When Should You Use a Flush or Semi-Flush Ceiling Light?

There are times when you desire a streamlined look for your house, with few interruptions on the ceiling. A flush light, for example, will offer enough lighting in a small corridor with a 8-foot ceiling without posing a safety risk to tall residents or visitors.

A flush light can help you maximise storage space in places with vertical storage (such as mudrooms, laundry rooms, or closets). In contrast, if a semi-flush is utilised in a room with a 8 or 9 foot ceiling, the hallway or laundry room may look smaller since the fixture reaches down from the ceiling, making the ceiling appear lower than it is. Flush mount designs range from simple and traditional to fashion-forward and everything in between, depending on the atmosphere you want to create.


Benefits of Semi-Flush Lighting
A semi flush ceiling light would function well in a place with a ceiling that is around 9 feet high and you want to create a visual statement. The semi-flush is more in people's line of sight since it reaches a little lower from the ceiling plane. As a result, it is more apparent than a flush light and is commonly used to aesthetically improve areas such as a breakfast nook or informal dining area, as well as corridors, mudrooms, bathrooms, and laundry rooms with ceilings of 9 feet or higher.

Another advantage of utilising a semi-flush is that it adds reflectivity by projecting light up against the ceiling plane, which is then reflected downward. When comparing the quantity of light provided by a flush light against a semi-flush light, the semi-flush will provide more light.

Semi flush lighting fixtures are available in a variety of modern (see our modern flush ceiling lights), classic, and transitional styles to fit almost any situation and enhance the style you've created for the rest of the space. For illuminating rooms with lower ceilings, both flush and semi-flush lights are excellent options. At thefancyplace.com, you'll find a wide range of both types to suit all budgets and home styles.
Make sure to check out our buyers guide for lights.
---