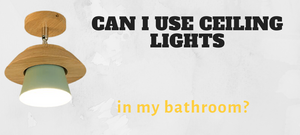 Can I use ceiling lights in my bathroom?
of reading - words
Can I use ceiling lights in my bathroom?
Need some expert advice about ceiling lights or flush ceiliing light fixtures? As there is a wide variety of different shapes, styles, and materials of Flush Mounted Ceiling Lights that are available. These ceiling lights are brilliant for illuminating all types of spaces within a home like a hallway, kitchen, dining room, and bedroom. But, are you curious if you can use ceiling lights in your home bathroom? The answer is simple; yes, you can use Flash Mounted bathroom ceiling lights in your bathroom.
The bathroom is the go-to hub for every man or woman to get dressed up and the first impression on your guests, so, of course, it needs blazing ceilings light to perfectly brighten up the bathroom. Let us discover how you can light up your bathroom with ceiling lights to make it look elegant yet well sophisticated. 
Is it important to use ceiling lights in the bathroom?
The important fact is that bathrooms are usually overlooked when it comes to bathroom light fixtures. The bathrooms remain on the low priority list as compared to other areas of the home. Most people don't recognize the importance of lighting as the bathroom is the luxurious part of the home that needs well-decorated and well-built ceiling lights. In today's modern bathroom that is transforming into large and profligate retreats for calming and relaxing the self, they need the same attention as other spaces of a home. So, yes you can use elegant and marvelous ceiling lights to light up your fancy bathrooms that will reflect positivity towards others.
How can I perfectly light up the bathroom by using ceiling lights?
The ideal kind of light fixtures for the bathroom is ceiling lights, as different bathrooms have different designs, sizes, and styles. Every single light fixture will never suit your bathroom except for ceiling lights, which are sure to complement the bathroom. So, here are some Flush-Mounted Ceiling Lights designs for your bathroom that are sure to light up the bathroom perfectly. 
Install HÄNDAF BLACK SQUARE FLUSH MOUNTED CEILING LIGHT on light ceiling walls as it showcases the artistic design and serves as a great lighting solution for the bathroom. Say goodbye to all flashy light fixtures and bring LINDRA WHITE FLUSH MOUNT RUSTIC CEILING LIGHT for your bathroom as an elegant bath light. It is a luxurious and cherishing light to perfectly illuminate the room as well as complement the ceiling.
Emphasis on different types of ceiling lights 
Whether you have a modern bath or a contemporary bathroom, every bathroom needs general brilliance so it is important to focus on ceiling lights especially the Flash Mounted Ceiling Lights. It provides the great illumination that you need to showcase the minor details of your bathroom, reduces glare on your face, and creates a relaxing and soothing aura in your bathroom that everyone will appreciate. If you have a light-colored ceiling, you can use dark ceiling light that will be perfect. If you have a dark-colored ceiling, you can use a light ceiling light to accentuate the bathroom. 
The FOTSYS BLACK LARGE LIGHT FOR ANY CEILING is a perfect bath vanity light that is a light, neutral, and pastel-colored ceiling fixture that will be grandiose for your baths. It is a vintage-inspired elegant Large Flush Mounted Ceiling Light that cheers up the ceiling with its luminous light. The OBJEKT WHITE CANADA FLUSH LIGHT is a perfect bathroom fixture that is great for ceiling light as it will tone up with dark-colored ceilings. It features a gorgeous design, provides warm luminous light, and comes in different colors to choose from. 
The
DÖRRPR WHITE FLUSH MOUNTED BATHROOM CEILING LIGHT
is a mesmerizing fancy glass design and best for ambient light on a dark-colored ceiling as it provides a warm radiance. The
OFTABO BLUE FLUSH MOUNT CEILING BATHROOM LIGHT
is an all wall powerful bathroom vanity light that highlights a contemporary design of a glass globe that is ideal for light or neutral shades ceiling. 
When you are using ceiling lights as your bathroom lights, you must maintain a balance between ceiling colors and ceiling lights, in short, go for a great combination to perfectly illuminate the bathroom. No one wants to create a mess in the bathroom with walls and lights clashing together and producing too much glare. Managing a balance is important but always challenging. So, always focus on different styles, colors, and types of ceiling light for the bathroom while purchasing.
If you want to achieve the perfect lighting of a bathroom, you must be patient and disciplined. Many people in excitement overlook the bathroom by installing different contradicting styles or designs of ceiling lights that don't fit with overall decor as Lighting design, which result in an unpleasant or too flashy aura. So, maintaining discipline is the key to accomplishing balanced yet proper lighting in the bathroom with contrasting ceiling lights. 
What are the benefits of using ceiling lights in the bathroom?
Ceiling lights especially Flush Mounted Ceiling fixtures are perfect as the bathroom vanity lights as they provide efficient lighting which is evenly distributed and easily blends in with the surrounding area of the ceiling to create a bright yet radiant light. They are highly functional because once installed, require no maintenance at all, and most importantly produce non-intrusive and minimal light.
The HÄSTSN WHITE TRADITIONAL LIGHT is perfect to install under Glass shades as it is a mesmerizing lighting fixture along with an exemplary design of flush-mounted ceiling lights that highlights a globe-shape with an exquisite artistic design that blends in any bathroom single shade ceiling wall. If you have a two-tone shade of Bath wall, choose from these bathroom lighting fixtures VETENS WHITE CEILING LIGHT OTTAWA or BÅDAMÄ SILVER UNIQUE LIGHT as they both infuse the ceiling walls so well with their unique and fascinating designs. 
Some tips for installing ceiling lights in the bathroom?
The flush-mounted ceiling lights are the primary source of balance lighting in the bathroom so, try to keep it aesthetically pleasing. They are more luminous than traditional bulbs so too bright ceiling lights look harsh in the bathroom, specifically with white suites. So, choose sleek yet minimal ceiling mount lights like KRAFTB WHITE CEILING LIGHT MONTREAL FLUSH MOUNT as it features an elegant design and illuminates the bathroom with soft and glam rays of light and elegance. The other option is KÄNNAD GREEN LED FLUSH MOUNT CEILING LIGHTING OVAL for ambient lighting, which is unique in its design and powerful in providing warm light that looks mesmerizing with white suites. 
The question arises where you can place these flush-mounted ceiling lights in the bathroom. To light bathroom properly and aesthetically, here you can read some tips while placing the ceiling lights. It includes; in a large or spacious bathroom, you can place the ceiling lights towards the edges of the bathroom rather than in the middle, avoid installing lights directly over the vanity area it casts shadows on your face, and you can fix over the bath, shower, or wetroom. 
How far apart should I place the ceiling lights in the bathroom? 
For a general guideline, when you are planning to install multiple ceiling lights in the bathroom, you should give four feet of space between two lights. Moreover, you can make a grid layout of the bathroom, which will help you understand the ceiling lights' placement in small minimal ceiling lights to manage space properly. It will also help you to match the design of your bathroom lighting with the bathroom wall they will get installed on.
How to create a feature in a small bathroom with ceiling lights? 
If you have a small bathroom and you want to keep it more spacious or open. You don't want to overlook the bathroom with large wall decoration and ceiling lights. Then install sleek yet minimalistic flush-mounted ceiling light because it seamlessly blends with the bathroom structure. When it is illuminated; it perfectly distributes the light all over the room by keeping it well-lit, spacious, open, and uncluttered.
For a small bathroom, you can install NATURL WHITE SEMI FLUSH MOUNT CEILING LIGHT as it will enhance the grace and beauty of the bathroom with its intensifying light. You can install it as a light bar that will reflect intensified luminosity for your shaving sessions. The STYCKE WHITE FLUSH MOUNTED CEILING LIGHT LED is another option to accent the small bathroom with its artistic design. 
How to fascinate a large bathroom with ceiling lights? 
If you are planning to amuse a large bathroom and you want to add more fluency along with implementing your own bathroom lighting ideas, then you can add a little mimic illusion to your large space with flush-mounted ceiling lights. You can place multiple ceiling lights with proper space and a bunch of luxurious large center lights with small ceiling lights all around the bathroom. So, for a large bathroom, you can use glass and globe ceiling lights to accentuate everything in the bathroom from vanity to bath, shower, or wetroom. 
You can fix FÅGELS WHITE GLOBE FLUSH CEILING LIGHT as a bathroom light fixture, a one light solution with a strong bulb that will lavishly lighten up the bathroom with its radiant warm light. You can add tech lighting FÄRGAN BROWN CEILING LIGHT WITH FLUSH SUPPORT as post lights in small minimal ceiling lights as it features a classy yet modish design with powerful bathroom lighting. 
 Don't forget to check out our other flush lights post.
---