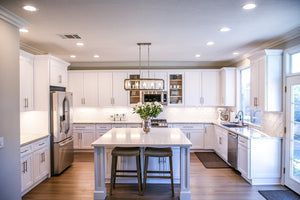 20 Impressive Kitchen Lighting Ideas To Perk Up Your Home
of reading - words
Impressive Kitchen Lighting Ideas
As the hub of your home, you need to mind your kitchen well. Other than taking care of it aesthetically, you also need to incorporate its functionality.
Lighting in your kitchen is a valuable element to consider. If you're installing such features in your cooking space, you should be particular about its focal points, along with how it compliments the style of the room and your house. Below are important tips for lighting your kitchen (don't forget to check out our black kitchen pendant light).
1. Lighting for a small kitchen
If your culinary area is short of space, try painting the countertops, the island, the cabinetry, the backsplash, and the ceiling white. Such bright color will open up the area. Then you can scatter accent lights around it, and these can be in the form of downlights, ventilation hood lights, or retro-pendant lamps.
2. Low-ceiling kitchen lights
You can feature a black accent wall here, and paint the cabinetry green. It creates an effect of depth, drama, and vividness. You can draw the perspective upward by installing multi-colored LED ball lights. For the rest of the area, you can arrange cabinet and pot lights that visually increase the height of the ceiling.
3. Brightening the country kitchen
Typically, this type of kitchen features a spanning long table and wooden floors. Try adding white country dining chairs and a dark gray rug that balance each other. Produce a warm glow by placing traditional table lamps and a vintage brass chandelier for elegance, charm, and flexibility.
4. Pendant lights for your culinary space
A contemporary kitchenette can feature two types of lighting, mainly glass shade pendants that exude openness and style, and under-cabinet LED strip lights that brighten the worktop.
5. Lighting for the kitchen ceiling
A modern kitchen is typically designed with straight lines and sharp edges. Light can be bounced back into the area by painting the cabinets with radiant white and something as simple as three bulbs can help disperse the light.
6. Under- cabinet light fixtures
A kitchen can emit a warm feel with deep brown wooden cabinets and hard-wood flooring with a medium tone. Vibrance can be infused through a red rug and backsplash. If you have glass-spaced cabinets, it would be ideal to install LED strips under to brighten up the workspace, while an ultra-modern feel is exuded by a slim pendant light.
7. Illuminating the kitchen island
A modern culinary space may infuse a white tiled backsplash and peach walls for cherriness. You can arrange a couple of white studio pendant lamps to emphasize a marble-top gray kitchen island and add potted plants to make the room lively.
8. The kitchen layout vibrance
Glossy white cabinetry creates the illusion of spaciousness, especially when combined with a metal backsplash and wooden countertop. Try hanging scallop-patterned pendant lights above the gaping island, consequently framing the island and embellishing the room.
9. Perking up an industrial kitchen
Black colored dining chairs, countertops, cabinets and subway tiles create a dramatic ambience, especially when accented with wood. Lighting can be functional over this area through track lights. An industrial atmosphere can be fused by adding geometric pendant lights.
10. Vividness for the modern kitchen
A prominent contrast is produced by black and unpolished wood fixtures. A bright glow can be emitted over the dining table by two modern dome pendant lights, while track task lights adjust the brightness in the room.
11. Pendant lighting for the kitchen island
The cabinets can be off-white, and the countertops pure white, combined with pastel blue walls that give a tranquil feel. A homey atmosphere can be induced by dark wood floors. The island can be illuminated in style with large beige-colored fabric-pendant lights.
12. Light fixtures ideal for the kitchen ceiling
Featured with a curved faucet and grid-like walls, the modern kitchen can be more appealing with track task light over the worktop. The eating nook can be perked up by a black dome pendant light.
13. LED lights enliven the kitchen ceiling
Black and white colors for the cabinets can be predominantly contrasting. Incorporated with LED downlights, the space can look stylish. A light-blue pattern for the backsplash satisfies the eyes.
14. Recessed lighting for your culinary area
A false ceiling structured in the kitchen can be installed with recessed lights along its borders. The workstation can become vivid when lighted with two metallic pendant lights. A soothing ambience can be created by beige-colored walls and fixtures.
15. Kitchen lighting with amplified brightness
White-colored foundation for the space opens it up, bringing in airyness. A Nordic style is produced by touches of concrete and timber. Wire mesh chairs and fruits in green liven up the area, along with two modish pendant lights.
16. Flush mount lighting for your cooking space
A rustic appeal is generated by unfinished wood stools, while a timeless look is exuded by limestone countertops and floor tiles. Elegant lighting can be achieved by three flush kitchen mount ceiling lights.
17. Traditional pendant lighting for your culinary hub
A retro atmosphere is radiated in the kitchen by a trio of antique brass pendants. Keep the colors neutral in the space and furnished with upholstered dining chairs complemented with a classic table.
18. The best lighting for your food preparation area
Cabinets made of raw wood combined with cream-colored walls and a limestone countertop is a harmonious style, and this area can be completely brightened up with LED strip lights as well as downlights.
19. LED lighting for your cozy culinary nook
Sunlight coming in makes the kitchen brighter in the daytime, but it has to be properly lighted in the evening. LED light strips can be installed just below the cabinets and ventilation hood for seeing the worktop clearly.
20. A vivid kitchen island with pendant lighting
White color for the walls and ceiling make the room look larger while minimalist cabinets make it look neat. Marble floors look elegant, along with a brown drum pendant hanging above the island.
These are some of the best kitchen lighting ideas that are sure to elevate the design of this busy nook in your home. You can install them on your own according to your artistic inclinations, or else hire a professional to assist you.
Don't forget to check out common lighting mistakes in the home!
---