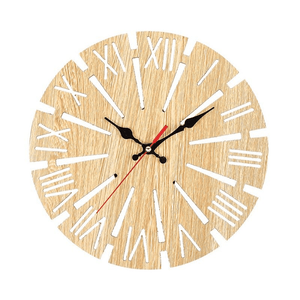 Choosing a Wall Clock: A Step-by-Step Guide
of reading - words
It is our passion at The Fancy Place to assist you in finding the ideal clock for your house. Our collection includes everything from large modern wall clocks to big rustic wall clocks, as well as everything in between. Changing your wall clock is a simple and inexpensive way to freshen a space or add the finishing touch to one. When you know what to look for in a clock, it's easy to choose the correct one, and we're here to help with these four suggestions.
1. The household room
The first question is, in which room do you want to put it? Is the current furniture mid-century contemporary, industrial, Scandinavian, bohemian, rustic, or nautical in style? The modern wall clock in large clock design is one of our most popular clocks since it can be used in a variety of styles.
2. The color of your home decor etc
The earthy tones of red, ochre, and olive green, as well as rich jewel colours like navy blue and forest green, are now trending in interior design.
You want to make sure the clock's colours don't compete for attention with the vivid colours around it; a clock with a white dial enables the eye to rest among such vibrant colours.
3. Size within the room etc
Choosing an overly big clock may make a space appear claustrophobic and overcrowded. A clock that is overly tiny, on the other hand, may appear out of place. Choose a clock that is large enough to be read from a distance if your room is open-plan. Because you'll be monitoring the time from various locations throughout the room, a functional clock is important. Do you have a huge blank wall that needs to be filled? Our Kedje Rustic large clock and the rustic giant ärganti black wall clock are two fantastic rustic alternatives. Making a statement with a clock on a simple feature wall in your house is a fantastic method to do it. ​
4. sound of your home
The last thing to decide is whether you want the clock to ring or remain quiet. You don't want to place a chiming clock too close to a bedroom, so think about which room you're putting it in or near. They're ideal for common living rooms such as the dining room or the living room.
You'll find the right clock for your house in no time if you follow these guidelines. Please let us know how you want to style your new clock! We like seeing your ideas and projects.
Have you read our large clock size guide.
---