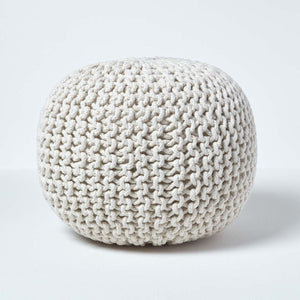 The Knitted Pouffe Trend !
of reading - words
Looking To Buy a Knitted Pouffe? Here Is What You Need To Know!
"The pouffe" was designed in the 19th century, it was often used in the living room. His main material was leather, and it was always covered with beautiful patterns. Nowadays, the knitted pouf meets several needs: to lengthen your feet during a romantic evening, useful for your close friends you usually invite, to be a decorative element that brings style and harmony to any room in your apartment, especially with coloured pouffe like yellow pouffe.
Rester - Yellow Large Knitted Ottoman
Then, it can be covered with different materials such as cotton, everything that comes from nature (for people who are sensitive to the environment), but it stands out more by its shape and colors that are constantly evolving or being created differently according to the artists of our time.
The Knitted pouf is therefore an essential piece of furniture to have in your home.
The
knitted pouffe

: why is it still considered a trend?

The knitted pouffe is always back in fashion for its innovative design, its many classic shapes, round or square or totally eccentric, such as fruit shapes, pebbles or any other object. Indeed, you will always have the choice for a footstool that matches your interior, regardless of the color and theme.

However, to be totally in tune with the times, we will give you 3 footstool tips to have according to your desires and the room in which you want to place it.
Different Pouf Style
Tip 1: Classic Deco (Grey Knitted Pouffe)
Rester - Gray Gumball Ottoman Poufs
We recommend a Knitted pouffe with original designs that will perfectly match the chic and classic theme, in Gray Knitted Pouffe, whose cotton design will bring a magnificent look to your living room.
Advice n°2: Modern / Stylish Decoration
Instead, choose round poufs with light colours such as Mustard Knitted Pouffe or poufs with special shapes and materials such as cylindrical, square, rectangular, or velvet, to get the most creative house possible.
Tip 3: Urban Decoration 
Choose a pear-shaped knitted pouf that you can place in a child's room or in your living room for more friendliness or to create a rest area. Indeed a child could take a nap, take pleasure in playing with the knitted pouffe, this one could also contribute to the growth of your baby. For example: some footstools can take the role of a step stool to help her do things like brush her teeth.
It needs to be padded with different materials such as: foam, polyurethane flakes to make it more comfortable.
Tip! Tip! It would be better to take a soft one to make sure you feel comfortable, and find the right color that would add pep to the overall atmosphere of your room.
In addition, you can combine your pretty footstool with beautiful cushions or carpets to create a sparkling atmosphere and make your room "cosy". Make you and your loved ones feel zen in front of a movie or a book reading.
 Diy Knitted Pouf
Now that you are confident with the kind of giant pouf you wish, you probably target to get crochet floor pouf pattern for free to create your own pouff or pillow as the knitting lover you are. Then take a look to these different websites :
I hope you enjoyed this article and don't hesitate to take a look at our
pouf shop
 to find the pouf xl of your dreams
 !
---