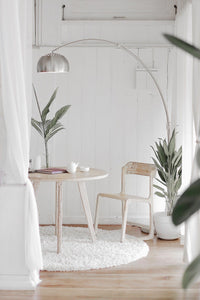 What is the Scandinavian design?
of reading - words
Sleek, authentic, functional and warm, Scandinavian design has been all the rage for several seasons, with wood, wool, fur, white, colourful notes, prints inspired by nature...
The equation of the Scandinavian style is simple:
it is about creating beauty, simplicity and practice. By choosing the Scandinavian style, our interior gains in comfort, space and functionality.
A serene atmosphere for house:
The Scandinavian style is defined above all by its natural and elegant spirit, a furniture set, small decoration, neutral colours... This 100% Nordic style reveals a soft and serene atmosphere.
Luminaires to be multiplied:
Design Scandinavian Pendant Lights above the dining table, floor lamp near the sofa, lamp to be placed on a pedestal table or designer buffet: the Scandinavian style devotes a great deal of importance to lighting in all rooms of the house.
Illuminate your home, thanks to our Scandinavian Pendant Lights
Colour side:
This Scandinavian style can be recognized by the choice of colours and materials. As for colours, we are moving towards white, which will be declined in all its shades, from immaculate white to ecru white, bluish white and beigeish white. To give rhythm to the whole, one or two additional colours are adopted, always natural or neutral or in a pastel tone. Thus, we choose pearl grey for softness, anthracite grey to set the tone, taupe to warm up, marron glacé to wrap. The idea is to create a monochrome of colours that mixes cold and warm colours in order to offer a cocooning interior.
On the material side:
For materials, as the Scandinavian style refers directly to nature, wood is the most widely used material. On the floor, to accentuate the total white look, we opt for a Scandinavian bleached floor or we leave the raw floor covered with a soft carpet. On the walls, the wooden base is welcome to give rhythm to the space with simplicity. Wood also takes place on furniture and objects. We like to mix it with more noble materials to create a subtle contrast. Thus, leather, copper, marble and metal take place in style, preferably through decorative objects.
Set a nice and simple interior design with our Carpets
For Which Room ?
When dealing with interior design, we usually need to  create different atmosphere for each room. Here is the strengh of Nordic Style home decoration, indeed, the goal of the Scandinavian design is to create an unified and simple decor thanks to basic principles. Also, the Scandinavian style will be suitable for any bedroom, bathroom, living room or kitchen.
Tip:
What types of switches for the Scandinavian style?
One detail can change a lot of things: In order to remain in line with the Nordic style, you must choose switches with a sleek square design in colours or materials such as wood, glass or aluminium...T
---