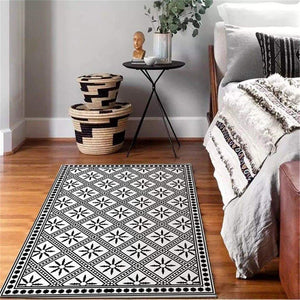 WHERE SHOULD THE DINING ROOM RUG BE PLACED?
of reading - words
Area rug placement living room
Rugs can be a great decorative element in any home, and when you're not sure where to start, you might want to take a room-by-room approach – think about the rug placement in each room. Every space is different, but most spaces can benefit from an area rug in terms of both appearance and function.
Think about your rug placement on a room-by-room basis to make the task of choosing a rug for the home more manageable. Some room-specific factors, particularly room dimensions and furniture layout, will affect rug size and style choices. Other considerations, like anticipated foot traffic on your flooring, children's and pets' needs, will also play a key factor.


Adding an area rug is one of my favorite ways to update a space, and the living room is a great spot to add color or pattern. There are hundreds of area rugs in different sizes and materials. But do you put the rug under a table? In front of a sofa? On top of the coffee table? Do you use different sizes for a small living room vs. an open family room? And what about placement of the rug with respect to light sources?If you've been wondering how to plan out your living room rug placement, hopefully I can answer some of these questions for you!


RUG SETTING IN THE LIVING ROOM
Where should you place a living room rug? While this question depends on the layout of your home and other design elements, there are a few general rules to follow.


Knowing the correct way to place your living room rug can help you create a space that is both functional and pleasing to the eye. Correct rug placement will go a long way toward making the most of that investment. Even if your plan is to cover the entire area with a large rug, there are still some do's and don'ts that can help you obtain the look you want. And of course, it's always a good idea to make sure that any type of rug you choose is clean and safe for your family and pets.

Let's face it, living room rugs come in a wide range of shapes and sizes. You might even consider your rug to be the most important accessory to enhance your space while creating a warm and cozy atmosphere for family gatherings. Whatever you are looking for, here are some tips to help guide you when placing living room rugs.
RUG SIZES AND SHAPES FOR THE LIVING ROOM
The size and shape of your living room area rug will depend on what you need to fill out the look of the rest of your living room. The most common living room sizes are extra-large, large, medium, small, or very small.
Many people don't stop to think about how they're going to integrate their area rug with the rest of the design elements in their living room since it's usually just a drop-in piece to fill up that space. However, once you've measured the dimensions of the area rugs you want for your flooring and know what size of area rug best fits into your decorating needs, you can start considering how you'll use those rugs.

This serves as a great starting position when selecting the best rug for your living room. However, there are many other things to consider. How would you like your rug to fit in with the existing decor of your living room? Are you looking for a rug that will brighten up the space and make it look larger or something that will add additional warmth and comfort and make it look cozier? These are just a few things to think about when making this important decision.


Large Area Rugs, 9' x 12' and Up: Because of its capacity to anchor the room's design and provide optimum floor protection, large area rugs are one of the most popular options for a living room. Large area rugs are those that cover 50% or more of the entire area of your space. For example, if your living room is 12' by 18', a 9' by 12' rug or bigger will cover at least half of the space. To allow an area rug to stand out visually against the room's flooring, provide at least a foot of space between it and the living room wall.
4' x 6' and Smaller Under Table Rugs: Under table rugs come in a variety of shapes and sizes, including rectangular, square, and circular. Coffee table rugs that are exclusively intended for the coffee table (and not for other furniture) are generally smaller than 4' by 6'. An under table rug will always be large enough to accommodate an entire table on it and will typically reach out at least 12 inches in each direction beyond the table's edge, although it will not always touch the legs of couches and of course your home chairs.
From 4' x 6' to 8' x 10' Mid-Size Area & Accent Rugs: The mid-sized rug collection includes options that may be used as area rugs in smaller living rooms or as accent rugs in larger living rooms. For example, in a modest 10' x 13' living room, an 8' by 10' rug might work well as an area rug, but in a 12' x 18' or bigger room, it would work well as an accent rug. An accent rug will only anchor a portion of the room's furniture, such as a chair and bookshelf in a reading nook, but an area rug will have the major pieces of living room furniture sitting partially or entirely on top of it.
IS IT NECESSARY FOR A LIVING ROOM RUG TO BE CENTERED?
Centering a rug is not the only way to ensure that it complements your living room's decor. The placement of a living room rug is an art, with careful attention given to balance, scale, and color. Whether you go bold with one large rug or opt for several smaller rugs strategically placed throughout the room, there are several points to keep in mind when determining where to place your new carpet.


Here's the thing...

Maybe the best-known advice about rug placement is that it should be centered in a room. But there are many other design options for living room rugs, as we'll see in this article. After all, the cool thing about rugs is that you can place them in so many different ways.


A rug may seem like one of the easiest aspects of a room design to nail, but placement is a fundamental interior design element that will dictate how your space feels and functions.

To summarise...

The living room rug is a key component in any room's design. While you can place a rug in most any room of the house, the living room requires a certain amount of decorum, class, and style. Deciding where to place the living room rug requires careful consideration of not only its color and pattern scheme but also the layout of the furniture within.
WHERE SHOULD A DINING ROOM RUG BE PLACED?
We frequently recommend that our clients place a rug in the dining room. It doesn't just add some color, it can be part of building a more cohesive space by tying in a common item between adjoining rooms; because dining rooms are typically found at the front of a home they are also the connecting point between public areas and private entertaining spaces. Another benefit to adding a rug to your dining room is that it absorbs sound that might otherwise echo through the room.

Depending on the style of your table chairs, you will be able to adjust the dining room rug accordingly. The first option that we recommended is to choose a solid color dining room rug and place it under the table with the chair legs tucked underneath. This option hides clutter from chair legs and doesn't require a lot of thought on your part because you won't have to choose patterns of squares, order rugs, or worry about important factors like height. The second option is to place your dining room rug in front of the table with chairs pushed back against the wall. This option is best for people who are willing to go out on a limb a bit without losing functionality and ease.
Make sure to check out the geometric rug!
---