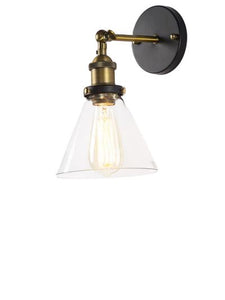 Fancy Lights For Wall: Secondary or Main Lighting?
of reading - words
Fancy wall lights can have both advantages and disadvantages. Many homes use multifaceted lights for wall. But the question still remains: Should i use lights for wall as a secondary or main lighting (make sure to check out our semi flush mount lighting)?
Well, that depends! Discover how to optimize the lighting of your foyer or apartment with wall lights, while enhancing the decorative side.
Fancy lights for wall
: Main lighting
Oklak - Nordic Wall Light White
In a sense, yes, a wall lamp can be used as the only lamp and light in your room. But under what circumstances?
Hallway wall lights
Ah the corridor, this room which serves only as a gateway to access the other rooms. Don't get me wrong! The corridor is a room that should not be neglected, both in terms of lighting and decoration. As a corridor is generally small, it cannot contain large pieces of furniture. Forget about ceiling lights, hanging chandeliers or bulky designer lights right away. Choose something small but striking instead.
A wall light can perfectly fulfill both roles. Indeed, its small size will not block your passages but remains a sufficient light element. The light, incandescent or LED (as you wish), will suffice to illuminate your small room that is the corridor.
In addition, with a contemporary outdoor wall lighting and wall light, your corridor will be embellished with it and will give an immersion to the chic and contemporary world.
How to choose your wall light fixtures? Adapt to the colours of your walls. If your wall is beige or cream, use white or similar hallway wall lights. For an originality that matches your room, use rectangular hallway wall lights (long, elongated) such as our Kobalt, available in several sizes, to make your decoration symmetrical and serious.
Flygen - Minimalist Artistic Wall Light
Wall sconces
 in an entryway
Similarly, an entrance can be even smaller than a Hallway. It is therefore not necessary to use a large ceiling light, or a crystal chandelier with pendants... A single fancy wall light or LED spotlight will be more than enough. This time, choose something more "square". If you like vintage or industrial decoration, there are lantern or industrial wall lights that look like urban style. For an extravagance, you can choose some futuristic design wall fancy lights with LED, low consumption and very design or a nordic lighting. Something to impress your guests!
Lighting Fixtures for a staircase
It is obvious that a stairwell is impossible to decorate. Well, that's not true. If your area is relatively small and you don't have the space to hang a few paintings (with spotlight on rail and wall washer), just put on a nordic lighting wall lamp that will perfectly light up your space but also decorate it with an original design. For a stairwell, it is interesting to use a rather flat wall luminaire. You will therefore find a wide variety of LED wall lights on the market. Torch-shaped luminaires, chandelier luminaires or candle holder wall lights can also bring interest and originality to your decoration thanks to a subtle blend of modern and rustic.
This very modern and elegant wall lamp can also be used in a corridor. We can observe the fine mix between contemporary and Gothic decoration.
Contemporary outdoor wall lighting
Kobalt - LED Contemporary Outdoor Wall Lighting
Maybe you have a garden, a balcony or a terrace? You will have noticed that it is not really ergonomic to place a floor lamp or even a table lamp, ceiling lamp or any other luminaire... For this reason, the only element that can be used for your outdoor remains modern outdoor wall lights. Modern outdoor wall lights are rainproof, this type of light will illuminate your garden with optimal LED light. Very useful when other lamps cannot fulfil their function (lantern, lantern, paper ball suspension, spotlight rail...).
Thus, you have seen the important role that a simple fancy wall light can play. As a main lighting element in its own right for some rooms, it is also an excellent way to accentuate your interior decoration.
Wall fancy lights

: Ambient lighting

For the larger pieces, it's a different matter. Indeed, even if fancy lights for wall produces enough light for a corridor or entrance, it can never be used as the main lighting for a living room or bedroom. Unless you live in a good room, of course.
Fancy wall lights for living room
For a living room, the most powerful light, the one that will help you improve your field of vision at night, comes either from a street lamp, a ceiling lamp, a chandelier or a suspension. But what is the role of fancy wall lights for living room? It is specially used to surround your interior or to give light support to your basic luminaire. A ceiling light is often placed in the centre of the room, which makes your corners of the room quite dark. This is where fancy wall lights for living room comes in. It provides light support where your ceiling chandelier cannot illuminate. In addition, for a romantic and comfortable effect, you can decide to turn off your main luminaire and let your wall lights diffuse a soft soothing light. For such an atmosphere, I strongly recommend the use of an incandescent bulb. With the reddening of the filament and the resulting warm light, you will give an immersion to the romanticism.
Fancy wall lights for living room
Wall lamp for kitchen
To illuminate every corner of your kitchen, and thus demonstrate your culinary talents, it is necessary to use wall lights or LED spots. For an originality, try to set up industrial wall lights. This style is back in fashion with its copper, black and red colours. Widely used in restaurants, this style can be adapted to any style of decoration: classic, vintage, retro, rustic, modern...
Industrial wall lights provides a warm and very welcoming atmosphere.
Nordic lighting

Wall lamp for the bedroom

That's what's interesting. How to use a wall light in such a room? As a general rule, the lighting of a room is based on the use of a floor lamp with a simple lampshade or a Japanese ball paper ceiling lamp. A wall lamp, placed near your headboard, can be used as a reading light or LED reading light: perfect for reading and relaxing after a hard day's work.
Reading wall lamp
MaanHär - Stylish Wall Mounted Light Fixture
With a dimmer, you choose the lighting mode. Lighting with an E27 incandescent, halogen or compact fluorescent bulb provides you with lighting that does not blind you when you get up from bed or before going to bed. On the other side, you have the LED reading light with switch, flexible, which will follow you in your readings.
In short:
A LED wall light, simple, cheap and decorative, can be used as a stand-alone light for often neglected rooms. But  fancy lights for home have a greater role in the atmosphere of your home by diffusing a soft light that will accompany you at any time of the day. To go further, see our online article on how to choose your fancy lights for home.
Enlight the lamp with our collection of wall lamps & sconces
---