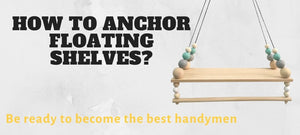 How to make floating shelves?
of reading - words
Wondering how to build floating shelves?
When you are modernizing your home and updating your home decor, you must keep the big picture in mind. Whether you are choosing to update your furniture, the wall shelves or ledge or just the entire home furnishing, you need to make sure that whatever you decorate your home with, it should look organized, well styled and comfortable.
Wall shelves and floating shelves add inspiring decor that shows how innovative and productive you can be. How to anchor floating shelves or shelves with brackets is quite important when you are focusing on a DIY routine of establishing your home furnishing. How to decorate wall shelves for tv or floating shelves with brackets is quite simple. But first, let's see how you can use wall shelves and floating shelves to decorate your home.
Using Floating shelves for books
Whether you need to fill in tight spaces or corners, the floating shelves for a book are the ultra-modern decor for a productive mindset. Whether you have little to limited room space or a large area set for floating shelves for books, these shelves are the best way to store precious books you use every now and then.
For shelving OPPBEV - FLOATING SHELVES FOR BOOKS- with its geometric shape is made of high-quality wood and adds in the perfect look for a bookcase or a wood shelf for your decor!
Whether you wish to decorate your home with floating shelves or wish to create optical illusion floating book shelves come in handy for office decoration and even a small book store.
The POLGA - FLOATING SHELVES FOR BOOKS gives the perfect floating wall and wood shelf to place books so you can attach many of these and make a series of bookshelves at home- The perfect Display shelves for more and more books!
The HUND PINK - FLOATING SHELVES FOR BOOKS is a decorative shelf and a display shelf. A perfect bookshelf and storage space for books! 
Wall shelf and Ledge
The wall shelf and ledge create a great optical illusion and space for creating an open kitchen, a small home office or decorating your living room. If you wish to create a 3D collage effect, you can use the wall shelf and ledge to place your favorite art, photo collage, and even books. The decor you use and be used to create any effect you wish to make your room and kitchen look more interesting.
The SÄKER WHITE - WALL SHELF AND LEDGE can be used in the entryway, as a display shelf, as a storage shelf and a glass shelf to display your glasses. It can be installed on a wood wall or as a top shelf in your kitchen or bathroom.
Taking your office as an example the wall shelf and ledge can be used in an office or your homemade office to place reference books, file boxes and baskets of office supplies. Now you may start designating your home the office workplace and start planning your DIY office at home (check our build guide for alcove shelves)!
The KLOCKA BLACK - WALL SHELF AND LEDGE is the perfect display shelf to add as storage shelves in a small space such as a home office.
If you need a wall shelf and ledge to tuck away your kitchen supplies. Start tucking in the supplies and decor of your kitchen right away by placing a wall shelf and ledge right away! Whether it is beautifully designed dishes or spoons, the wall shelf and ledge are the perfect matches for the kitchen!
The SNITT WHITE - WALL SHELF AND LEDGE can be used as a shelf bracket to plate your kitchen pots, flower pots, vases or spice jars. Vases can be perfectly supported by these shelf brackets and add in the perfect decorative look by this storage shelf.
Wall shelves with brackets
Is your decor heavy? And you need something that is reliable to carry your expensive decor, the wall shelves with brackets are the perfect match!
The NÖRGA - WALL SHELF WITH BRACKETS is made up of iron and wood. These wood shelves act as a shelving unit to hold any decor you wish to display in them- Just the shelving unit you need!
If you wish to place shelves with brackets in your kitchen, make it as a spice rack to save and place all those heavy spice jars. It will create an illusion of a size cabinet and add in a colorful hidden effect to your kitchen!
The MÄTA PINK - WALL SHELF WITH BRACKETS are colorful floating wall shelves with brackets that act as shelving units for a decorative wall. They create the perfect illusion of a wall mount shelf for colorful spices- A perfect wall storage and shelf unit all in one!
Whether you have space under the stairs or the corners of your gallery, the wall shelves with brackets are perfect to place in all the supplies you need to keep safe in a stylish way. To accentuate the shape of the wall and add a modernized styled look, the shelves with brackets are perfect to place your mail, keys, messages, favorite family knick knack and so much more.
The DÖRR WOOD - WALL SHELF WITH BRACKETS can simply act as shelves wall or a wall mount shelf or a corner shelf for books, vases glass wall and so much more!
Do you need a place to keep all your fashionable high heels and designer shoes somewhere where it adds in a glow to your fashion statement, use the shelves with brackets!
Whether you need to decorate around your sofas, glass wall, or just all wall the BERGÄR - WALL SHELF WITH BRACKET is perfect to place decorative items. These ledge shelves act perfectly as shelf storage for decorative items and picture ledge. Whether you have a wooden wall or a glass wall, a multiple of these act as shelving systems to all sorts of rooms!
Wall shelves for tv
Do you wish to place your tv in your bedroom or the living wall shelves for tv have covered it all. From a dynamic to open look, the wall shelves for tv have an excellent combination to blend in all the modern styles of the room and the colorful furniture of your home.
Not only tv shelf is a cheap and an effective way to save space and money, but the high quality of the wall shelves of tv is a perfect way to use quality material to design the interior of your home.
The ALLTID WHITE - FLOATING SHELVES FOR BOOKS is the perfect floating wall shelf to use as a wall-mounted shelf to create a decorative wall around your tv!
How to DIY anchor floating shelves?
Step one: Know your tools
When it comes to installing a floating shelf at home, you need the basics and those are the tools. The tools that you will be needing to install a floating shelf such as for books are the following:
Power drill
Screwdriver
Level
9/32" drill bit 
Step 2: Know the hardware
You will be needing the following hardware for the floating shelves:
One shelf board
One metal plate
Around 6 to 8 plastic anchors (4 for smaller ones)
Around 6 to 8 long screws (4 for smaller ones)
2 short screws
Step 3: Know the spot and locate the install space
Now make sure you are aware of where you need to install the floating shelf.
Next place the backplate against the wall where you have marked the spot to place the floating shelf. Mark the holes with the help of a pencil where the backplate will meet the wall. Now make sure that the metal place is in the direction you want it to be in. Make sure that the level of the plate will be perfectly horizontal.
Step 4: Installing the metal plate to the wall
Now with the help of a power drill and the 9/32" drill bit, drill in the holes where you have marked the points with the help of a pencil Next to secure the backplate to the wall, power drill or use the screw-driver to place in the screws in the studs.
Step 5: Time to install your favorite floating shelf
Simply slide in the floating shelf onto the already installed backplate and your good to go!
Make sure the side of the shelf with the two small holes are at the bottom.
To make sure that your floating shelf is secure and ready to hold heavy decor, it should be installed in studs.
Never again leave the decor of your house empty and complete the interior designs of your home with the help of floating shelves for books, wall shelves and ledges and shelves with brackets! All the multiple designs and displays are present in our shop. With a simple click you can now start installing shelves right away!
Now you are a pro at anchoring the floating wall mounted it is time you start choosing a floating shelf for yourself at home ! Enjoy Free Shipping with us.
Read our guide on how to build a shelf!
---