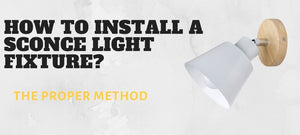 How To Install Wall Sconces Step-By-Step
of reading - words
Without Hardwiring OR a Wall Outlet, Install Wall Sconces or Light Fixtures!
If you live in a rental, but you want a light bulb that's meant to be hardwired, you've come to the right place. It's no problem. Do you live in a house where you'd like to use a plug-in light but there aren't any? It's also no problem!

Today, I'll teach you how to make the wall light that you want without a nearby outlet or the ability to hardwire it.
Don't forget to check out our best wall lights post!
What do I need?
These are the items you'll require:
The sconce or light of your choice (I recommend getting something opaque so the puck light isn't seen)
The hardware that your sconce comes with (you will assemble and hang the light with the exact directions that come with your specific light) The majority of sconces have an anchor and screws!
A screwdriver (just if you need to disassemble your shade to get the pucks to fit inside, like I did!)
4-6 light pucks are required. (I used two in each, but I had to take one out due to weight.) These LEDs will be installed within your light fixture.) 

Using battery-operated PUCK lights instead of bulbs or battery-operated bulbs is the key to this DIY. Do not use a battery-operated bulb for this project! On batteries, LED bulbs only last 3 hours, whereas puck lights can last up to 2 months.


As a result, I chose a sconce that I had to disassemble in order to fit the pucks in. I'm sure there are larger lamps that don't require this, but I fell in love with them and knew I had to have them!


The disadvantage of this technique (there are always disadvantages to hacking the system LOL!) is that when the batteries die, I'll have to unscrew the lamp, replace the batteries in the puck, and reassemble the lamp. I believe this is a reasonable trade-off for having amazing lights in your home that don't use any electricity!
Step 1
1. If necessary, dismantle the covering to allow the globe lights to fit inside.
Step 2 
2. Check your puck lights for batteries (but remmost don't come with batteries).
Step 3 
3. Insert the puck light into the shade. If you have a shade that isn't round, a 3M strip can be used to attach the puck to the bulb socket.

After putting the puck inside, I had to screw the lamp onto the base.
Step 4 
4. Assemble the light according to the instructions provided by the manufacturer. Except for the fact that it doesn't need to be plugged in or hardwired, nothing about the method you mount your light changes!
Installing Wall Sconces
The lighting necessitated the use of wall anchors, which was not an issue because they were small. It took me approximately 30 minutes to complete this process, and I think the finished effect is fantastic.

It appears to have been hard-wired into the wall. To turn the light on and off, simply use the remote control. well for myself, this is fantastic!!
You will love TheFancyPlace flush ceiling lights!
---