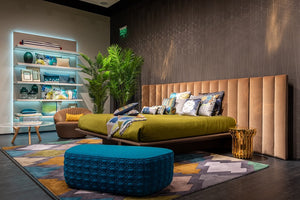 8 Lighting Tricks By Interior Designers To Perk Up Your Home
of reading - words
8 Lighting Tricks By Interior Designers To Perk Up Your Home
The wonderful element of lighting can utterly complete the atmosphere of your home. It brings about a fluid flowing of space that creates the perfect ambience. For instance, if your home is brightly lit, doesn't it make you feel more alert and awake? Or if the light is dimmer or softer, you'll be apt to be very relaxed and even be induced to sleep. 
The effect of lighting can actually make your living space look bigger and feel warmer. Here are valuable tips to apply for that.
Plan your lighting project
The essentials of placing the right lighting in your room should be planned accordingly, especially if you are starting from square one or redecorating it. You can do so by creating a lighting plan or mini brief. Determine what activities are being carried out in that particular area. Do you eat, or work, or relax in it? What about the key features in that space that you prefer to highlight, or perhaps architectural borders that you want to consider?
When putting up the lighting in your home, think about the scale, the style, the brightness output, and the temperature of the colour brought about by your fixtures. Particularly plan before rushing to buy your lighting appliances to avoid the stress and problems of deciding on the last minute.
Use different sources to layer your lighting
You can create an interesting and captivating ambience for your room by layering your lighting. This can be done by using different sources and levels of your brightening fixtures. When using an uplighting appliance, you can maximize the shape and the size of an area. On the other hand, utilizing low hung pendants spawn an illusion of height, or setting up a cluster of lights bring about a cozy atmosphere to a bigger room.
Ensure that the lighting is functional and practical
What tasks do you perform in the pertinent room, and how can the best lighting aid you in successfully accomplishing them? If it is your kitchen, then you would normally cook there. In this case, the lighting should be more concentrated wherein bright downlights along with recess lighting are combined. They can be placed in cabinets or over stovetops.
Flexibility and direct lighting should be focused away from you if you're affixing lighting for reading. Lights on the side and from below are more suitable for a powder room. Changing the atmosphere of your space can be achieved by positioning dimmers which are your best friend for creating warmth and for your budget. These lighting appliances are energy efficient and truly effective.
Be meticulous when choosing your bulb
There are several factors to consider when buying the right bulb. Getting smart with your purchase should not be an afterthought especially when you realize that they have blown upon your use. What factors should you take into account when buying a light bulb?
What level of brightness do you need for your space? In this case, you have to note how many watts it is.
What kind of atmosphere do you want your lighting to achieve? If the color temperature that you want for your design is a lower, you can select a light bulb that is similar to candlelight. However, if you want to obtain a higher temperature, you can opt for bulbs that are as bright as the blue sky in the outdoors.
Will you consider energy efficiency? You might want to mull this over, particularly if you frequently use your lighting.
Do you want to bring out a stylish design or highlight something in your room? This is when you have to be meticulous about the shape, colour, or scale of your lighting fixture.
Spotlights can be used to accentuate the favorite aspects in your room
Is there a feature wall that you want to highlight? The proper lighting can subtly or vividly emphasize it. The same thing with an architectural aspect or key furniture, such as a winged armchair or the solid wood leather sofa. Lights can be mounted on the wall as well, having them symmetrically fixed on the left or right side of a statement mirror on top of a fireplace, or else mantelpiece. This lighting element can indeed add warmth and sophistication to your living space.
Use lighting for a warm and welcoming feel for your guests
You can position a spot light that accentuates the center of your dining table so that your guests can be drawn in and feel comfy.
Arrange lighting to keep you safe at night
Having frequent midnight bathroom breaks can become very inconvenient when you flick that switch only to find a glaring and temporarily blinding bathroom bulb. It therefore makes sense to purchase floor level lighting that directs its brightness in staircases, the bathroom, or the hallways. This will serve as a guide and soft warm lighting come the nighttime.
Keep your lighting simple and consistent
Basically, it is because less is more. Consistency should be incorporated when arranging the colour schemes, the theme and the material finishes of your home. Don't cause confusion to your family or guests by creating too many and diverse styles and arrays of lighting.
These can cause a bewildered atmosphere that can also be difficult for the eyes. Opt for neutral tones in your home decor that, in turn, make your space look open and larger. Lampshades can introduce pops of statement and color that make the area appear more interesting. But if it's a feel of luxury and relaxation that you want to produce, you can add darker hues.
See our best ideas for bedroom wall lights.
---