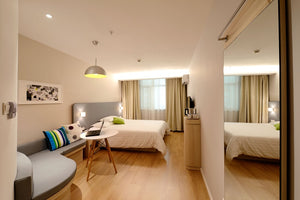 Tips For Lighting Up The Different Rooms In Your House
of reading - words
Tips For Lighting Up The Different Rooms In Your House
There are plenty of options to light up the rooms in your house. Bringing out focus and warmth in your spaces can create a comfortable or perky atmosphere, depending on the function and purpose. Industrial style pendants can do the trick, or else chandeliers for a more elegant feel.
However you choose them, below are nifty tips for lighting every room in your cozy abode (check our bedroom lighting ideas).
Proper Lighting for the Living Room
Your living area should feel warm and larger, especially because it is where you welcome guests or laze around on a cool winter evening. It's lighting should be attractive. You can make this so by placing freestanding lamps all around to produce soft reflections of light that are easy on the eyes.
These lamps are bound to ambiently illuminate the area. Following these, you can focus on setting up task lighting, such as for reading.
If you want to make your living space look smaller, you can incorporate lighting that is mounted on the ceiling, basically because it emits a hard glare that focuses on its center. Pendants are useful and decorative when you need to see better, and you can position them in conspicuous places.
How To Light Up The Hallway
Strong lighting needs to be affixed in the hallway, particularly because you just pass through it. That is, its light should be brighter than that in the rest of the other rooms. You can opt for a chandelier or a lantern that stands out prominently. But if possible, don't select that which has an exposed bulb because it appears to be rather unflattering.
As an alternative, you can consider wall lights or else sconces that don't use up floor space. If you want to create an enticing and classic style, you can set up a console and place a pair of table lamps on it. The light it produces is more gentle than that coming from the overhead. Then again, you can combine these options for versatile ways of lighting throughout the year.
Brightening Up The Kitchen
This is indeed a hard-working area in the house, and in fact the hardest. You need to carefully plan its lighting to begin with. Kitchen plans are nonetheless open nowadays wherein it becomes an inclusion of a larger living room. Lighting in this scenario needs to be flexible for varied requirements, one of which is sociable cooking.
Dimmable lights are useful here, mainly because it is flexible wherein you can utilize it in between cooking endeavors and for relaxing. A good choice is also recessed spots, along with under-cabinet strips that appear safe and demure. Worktops for preparing food, on the other hand, need focused lighting.
But remember to fix the light in a way that doesn't make you work in your own shadow. These lighting schemes can be assisted by utility style clip on lightings or ornate pendant lights that are easy to clean (see our kitchen lighting ideas).
Illuminating The Dining Room
The glow of your lighting in the dining room should be focused on the center of the table. Fixtures (see our yellow style light fixtures) that direct light low down is thus more ideal. You can have the lighting appliance suspended from the ceiling on top of the table.
A dimmer can be added to this set-up for other activities done on the kitchen table such as doing homework, reading and other creative tasks. In this case, you can arrange a low-level pendant with adjustable glow that can be turned up to become brighter. It provides illumination to the surroundings, too, especially for the rest of the spaces in the room. 
Nonetheless, you can put up carefully selected floor lamps or table lamps scattered around to dissipate gloomy areas and exude a more attractive ambience. If you want to create a perky and upbeat atmosphere, you can fuse fairy lights that likewise amplify the brightness in the room.
How To Perk Up The Bathroom
Specific safety standards have to be kept to when installing lights in your bathroom, giving you limited choices than the other rooms in your house. Primarily, you have to ensure that the bulb is covered and protected from splashes, spills or moisture.
Lighting in the bathroom should be wired for pulling a chord. A dimmer scheme will not work well in this scenario, unless you place it outside of the room. A special pull cord for use with certain recessed ceiling lights is entailed when it comes to this as well.
The general rule for bathroom lighting is that such fixtures should be installed away from water, including the sink and the shower or bath. It is best to seek for the advice of a government-licensed electrician for matters like these. You can refer to the IP rating of bathroom lights that indicate how close they can be placed to water sources.
The bathroom commonly is a small area with limited floor space, and it is therefore ideal to put up recessed lighting or wall-mounted fixtures (see the color temperature in bathroom lighting).
Bright Lights For The Garden
You would be needing lighting that is safe for exterior use. Robust and watertight designs are ideal for your garden. With good lighting placed well, your outdoor living area can be wonderfully transformed. It will make the space look larger and present you with an engaging view of the outside world.
Brightening the terraces and the paths can be achieved by installing uplighters, or you can use a spotlight to accentuate a specimen tree or maybe a shrub. 
Remember, though that garden lighting must be affixed by a qualified electrician. A path can make use of low-level lighting such as affordable solar designs, providing a soft glow.
A gentle ambiance can be created by stringing festoon or fairy lights through trees, and the path to your door can be lighted with embedded path or LED lights (check our outdoor chandelier ideas).
---