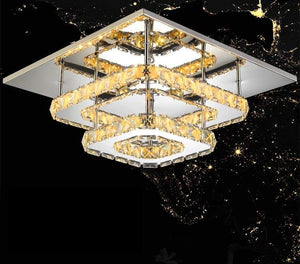 Ideas For Choosing, Hanging, And Placing A Chandelier In Your Bedroom
of reading - words
Ideas For Selecting, Placing, And Hanging A Chandelier In The Bedroom
Bedroom chandeliers can create a comfortable atmosphere in a small, personal space. Bedroom lighting should be inviting and provide a relaxing experience. When choosing your bedroom lighting, remember that you want to be able to do your daily activities comfortably without straining your eyes. Chandeliers offer the perfect solution to meet all of your lighting needs while adding a decorative accent to your bedroom décor (make sure to check our living room chandelier buying guide).
Chandeliers are often the focal point of a room. Its function is to add striking light to a space, but beyond illumination, it can also be used to enhance a room's design. As you begin the process of looking at designs for your home or searching for a unique and inexpensive lighting fixture (yellow pendant light), keep these considerations in mind when looking for bedroom chandelier fixtures.
How Do You Select The Right Chandelier Size For Your Bedroom?
One of the deciding factors in choosing a chandelier for your bedroom is the size. A dining room chandelier (dining room chandelier ideas) is different from a living room chandelier which are different from a bedroom chandelier. Even though the lighting fixtures come in many different shapes, styles and sizes, the most important factor in determining the size of a chandelier is knowing where you're going to place it.
The most common way to centre the chandelier in your bedroom is to place it above the foot of your bed. If this is the aesthetic that most appeals to your sense of style, you may calculate the size of your chandelier using a simple calculation. Measure the length and breadth of your room and multiply the two figures. The diameter of an adequately sized chandelier is equal to the result when translated to inches. For example, if your room is twelve feet broad by thirteen feet long, the ideal chandelier will have a diameter of around twenty-five inches.
A large chandelier will overwhelm a smaller bed, and a mini-chandelier will not pair well with a king- or queen-sized bed frame. Over the Bed Placement: Another popular chandelier placement is to centre the fixture over the bed. In this case, the size of the bed will play the most important role in determining the size of your chandelier, as a large chandelier will overwhelm a smaller bed and a mini-chandelier will not pair well with a king- or queen-sized bed frame Chandeliers with a diameter of 36 inches will appear best over a king or queen-sized bed, while chandeliers with a diameter of 24 inches would look best over a full or twin-sized bed. For bigger spaces, extra lighting layers such as sconces, table lamps, or ceiling lights should be used to ensure that the area is adequately illuminated throughout and that the light sources do not seem imbalanced.
The right amount of light is very important in a bedroom. It impacts how pleasant you feel when entering your room at night to get ready for the next day. The wrong amount of light can leave you with a dark and gloomy space that makes it hard to wake up in the morning. At other times, the bedroom can be too bright at night and prevent you from getting a good night's rest. In some cases, it may even be distracting enough to keep you from sleeping, allowing your mind to run wild all night long as you toss and turn in bed trying desperately to find a cool spot on the mattress. 
Determining The Height Of A Bedroom Chandelier For Hanging
The bottom of the chandelier should hang roughly seven feet above the ground. That height allows for anyone in the bed to easily look up and enjoy the glow of any candles you choose to place inside your new chandelier fixture. 
Hang your chandelier above the center of the bed. If you're placing the chandelier in a separate bedroom, place it above the middle of the bed to make sure you can see it and avoid tripping over any nearby furniture as you leave it before walking into another room. Most traditional-style bedroom chandeliers hang eight feet from the ceiling. With high ceilings, you have more flexibility with where you can place your fixture.
Choosing A Chandelier For A Kid's Room
These chandelier sizing and positioning techniques can also be used in a nursery or a child's room. To provide soothing, diffused light for your baby's late-night demands, consider dangling a tiny nursery chandelier over a changing station.
 When it comes to a chandelier for a girl's room, a kid's room chandelier may be a fun and whimsical way to gently raise the design quotient in your child's personal sanctuary. 
Crystal tiny chandeliers, quirky geometric chandeliers, and bohemian beaded and tasselled chandeliers are all excellent choices for creating a colourful, light-hearted appearance that will make your child's room their favourite place in the home.
In a bedroom, where should ceiling lights be placed?
The optimum location for a ceiling light is not necessarily in the centre of the bedroom. Instead, place the light in the middle of the room's most prominent visual element. The bed will most likely be this feature in the bedroom. Install a few well-placed recessed lights if you select this option.
Make sure to check out the chandelier outdoor ideas and wall light fixture buying guide!
---